They were determined to produce their debut album and it took two years to do it. Revelation will be out this weekend and LAM LIN SHI has the goods on 1 a.m.'s work of faith.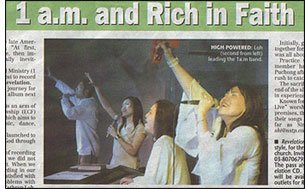 CHRISTOPHER Reeve, the late American actor, once said, "At first, dreams seem impossible, then improbable, and eventually inevitable."

That's how it was for 1 Accord Ministry (1 a.m.) (correct) when it embarked on a quest to record its debut worship album titled Revelation.

It was a two-year bitter-sweet journey for the group, which will launch the album next weekend.
1 a.m. is not a band per se; it is an arm of the Eaglepoint Covenant Fellowship (ECF) church in Puchong, Selangor, which aims to inspire worship through music, dance, drama and the media.

Recently, 1 a.m. Academy was launched to train people on the worship of God through performing arts and the media.

"We were toying with the idea of recording an album as early as 2002 but we did not have the right band in place yet. When we started in 2003, we tried recording in our own facilities but we were not satisfied with the quality and faced many problems with our recording equipment," says Cathryn Loh, co-founder of 1 a.m.

Then the group lost its first drummer when he had to return to his hometown in Kuching due to family commitments.

"We didn't have a drummer for half a year. !" continues Loh. "When the second drummer came, the band had to go through the gelling process again."

1 a.m. sought then decided to seek professional help and engaged the services of Sonique Productions, owned by US-trained Nick Lee who has produced albums for local indie artistes such as Shelley Leong, Dragon Red, Naked Breed and Altered Frequency.

The desire to share their songs and worship experience with others had led Loh and music consultant Kelvin Lim to form 1 a.m. and subsequently, to produce an album.

"How many songs have you heard that speak about good values?" asks Loh whose job is to ensure that 1 a.m. runs like clockwork.

"Too few. That's why we wrote these songs to build people up. We believe that godly music can change people's lives."

"Worship brings change. No one can stay the same after a supernatural encounter with God," adds the pony-tailed Lim, the producer and main arranger of Revelation.

Lim, owner of Dynamic Sound & Music Consultancy Sdn Bhd, is no greenhorn in the music industry.

He was the keyboardist of Joshua Race Ministry (JRM), one of the very first few local Christian bands to emerge in the 1990s. In 2000, JRM was nominated for one of Anugerah Industri Muzik's awards.

JRM produced three albums but the band members went their separate ways in 2001.

In Revelation, Loh and Lim are the lead vocals. The others featured in the album are IT firm manager Terence Inigo (drums), mechanical engineer Adrian Lee (acoustic guitar), advertising student Vincent Chow (electric guitar), multimedia student Kevin Lau (bass guitar), English teacher Lisa Leong (vocals) and youth co-ordinator Shawn Kong (vocals).

Initially, getting the musicians and singers together for the album was a challenge, as it was all about the practice schedule.

Practice was three times a week. One member had to travel from Ampang to Puchong after work for the practice and then rush to catch the last LRT train back home.

The sacrifice proved worthwhile, as at the end of the album recording, they were richer in experience and in their faith.

Known for its high-energy "Saturday Night Live" worship concerts at the ECF church premises, the 1 a.m. band has been bringing their songs and messages to churches in as far as Singapore and Sabah. - linshi@nstp.com.my

n Revelation will be launched, in concert style, for three nights (April 15-17) at the ECF church. Invitations can be obtained by calling 03-80706797 or e-mailing ask@1am.com.my. The pass also allows you to redeem a Revelation CD. The album containing 11 tracks will be available at bookstores and music outlets for RM24.90 after the launch.