Wah Lok's Tributes to Rich Mullins
| Keith Green | Rich Mullins |


Keith Green and Rich Mullins, in my opinion, are the best Gospel Songwriters I have seen in my lifetime. Both were called home to glory at a young age. Yet in their short lives, they impacted and changed millions of people with their songs, leaving behind a legacy that lived on, long after they were gone. Their passing away left an irreplaceable vacuum in Gospel music. I am humbled that I am able to write a short tribute to these two great men whose music impacted my life.

Wah Lok

---
RICH MULLINS 1955 - 1998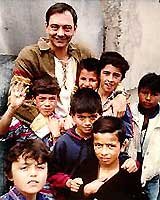 I discovered Rich Mullins songs in the late 80s when someone came from the United States and taught the chorus of the song Awesome God to us. I later found out that we were only singing the chorus and there were two more verses . Here in Malaysia, Rich Mullins cassettes and CD were not easily available and they often came long after they were released in the United States.

When I finally got hold of some of Rich Mullins CDs, I was astounded by his songs. He was a singer, songwriter, poet, social worker and philosopher, all in one person. I marveled at his poetic brilliance in song writing. I found some of his lyrical phrases so interesting and wondered how he managed to conceive such ideas. He was a song writing genius. He could transform the normal things in life like the color green, a shaking leaf, a screen door or the Prairies into a fanciful song.
Here are some of my favorite Rich Mullin's lyrics:-
Jacob and 2 women
Jacob, He loved Rachel, and she loved him too and Leah was there just for dramatic effect
Well it's right there in the Bible, so it must not be a sin, But it does seem like an awful dirty trick
And her sky is just a petal pressed in the book of the memory of the time he thought he loved her
And they kissed and her friends say, "Ah, he's a devil, But she says' " No, He'a dream"
This is the world as best as I can remember it.



Elijah
When I leave I want to go out like Elijah. With a whirlwind to fuel my chariot of fire
When I look down on the stars, It'll be like a candlelight in Central Park
And it won't break my heart to say goodbye.



Hold me Jesus
I wake up in the night and feel the dark
It's so hot inside my soul I swear, there must be blisters in my heart
So hold me Jesus, cause I'm shaking like a leaf
You have been King of my glory
Won't you be my Prince of peace



Verge of a miracle
Clung to a ball, that was hung in the sky, hurled into orbit, there you are
Whether you fall down or whether you fly, seems you can never get too far
Someone is waiting to put wings on your flightless path
You are on the verge of a miracle.



Screen Door
Faith without works is like a song you can's sing,
It's about as useless as a screen door on a submarine



Calling out your name
When the moon moved past Nebraska and spilled laughter on them cold Dakota Hills
And angels danced on Jacob stairs
There was silence in the Badlands, and over Kansas the whole universe was still
By the whisper of a prayer
And the single hawk bursts into flight and in the east, the whole horizon is in flames
I feel the thunder in the sky, I see the sky about to rain
I hear the prairies calling out Your name.
Mullins' critically acclaimed career began with his first self titled recording in 1986. Between 1986 and 1996, Mullins recorded nine records for Reunion including his last recording Songs, a collection of Rich's most well-known hits. Mullins is perhaps best known for writing the church standards "Awesome God", which in 1989 was voted one of the top three songs of the decade by the Christian Research Report, and "Sometimes By Step", in addition to eight other number one songs. During his life, Mullins was nominated for twelve Dove Awards and had his songs recorded by artists such as Amy Grant with "Sing Your Praise to the Lord", "Love of Another Kind" and "Doubly Good To You".

His music was not the only way that Rich touched peoples' lives. He spent much of his time working with Native Americans in the southwest and with Compassion International. Mullins once stated, "I hope that I would leave a le