Wah Lok's Tributes to Keith Green
| Keith Green | Rich Mullins |

Keith Green and Rich Mullins, in my opinion, are the best Gospel Songwriters I have seen in my lifetime. Both were called home to glory at a young age. Yet in their short lives, they impacted and changed millions of people with their songs, leaving behind a legacy that lived on, long after they were gone. Their passing away left an irreplaceable vacuum in Gospel music. I am humbled that I am able to write a short tribute to these two great men whose music impacted my life.

Wah Lok

---
Keith Green - 1953 - 1982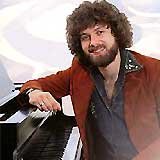 "A short life is not an incomplete one".



This is certainly true of Keith Green. On July 28th 1982, at age 28, he was tragically killed in an plane crash together with his three year old son Josiah and two year old daughter, Bethany. His wife Melody Green was at home with their one year old daughter, Rebekah and was also 6 weeks pregnant with their fourth child, Rachel. His death was one of the greatest loss to Gospel Music.

When I first heard Keith Green was killed, I asked God, " How could someone so young and so passionate for the Gospel be called home so early in life ? Green was at the peak of his career, sharing a powerful message through his songs. In a span of 5 years in the music ministry, he released songs that were so powerful and passionate, they literally touched and challenged millions of lives. Subsequently after his death, many other compilation albums, his unfinished works and tribute songs were released. People just could not get enough of his songs because they were so real and written with such passion. It will be difficult to find any Gospel Artists in his era not affected by Green's music.




Green's songs were so passionate, he did not give room for mediocrity. He was on fire for God and expected every one to have the same zeal. He thought everyone should be a missionary and share the Gospel to the world. His songs No Compromise, So you want to go back to Egypt, The Sheep and the Goats, To obey is better than sacrifice, Asleep in the light, speak volumes of what he wanted to communicate with God's people. But his worship song O Lord You're beautiful is probably his most famous song, which became a benchmark for all modern praise and worship songs today.

Here are some of my favorite Keith Green's lyrics -


"Jesus rose from the dead, and You can't even get out of your bed"
"Jesus came to your door, you left them out on the street"
"To obey is better than sacrifice, I don't need your money, I want your life"
"Can one of the angels get the Lord a hamburger and a coke ?
"Keep all the junk to yourself"
So you wanna go back to Egypt"

Although I have never met Keith Green personally, I have been deeply impacted by his songs and message. I have been listening to his songs for 22 years and it still astounds me that although his ministry lasted only 5 years , he left a legacy behind, still strong 21 years after his death. With the release of his 20th anniversary album and new tribute albums to him, his songs have now crossed and touched lives of a totally new generation, some of these who were not even born when he died in 1982.

I wish I had a chance to meet Keith Green and tell him how much his music means to me but I guess that could never happen. But someday, I will see him in heaven, and perhaps when that happens, I will be singing with him to Jesus whom he loved so much ,

Lord You're beautiful, Your face is all I seek
And when your eyes are on this child
Your grace abounds to me" Keith Green, 1980

Ng Wah Lok
3rd March 2003